I will give you every place you set your foot as I promised Moses
Joshua 1:3
Please learn more about any of the global and local missions we partner with. You may also donate below
God is so good.

I would like to let everyone know that this past Sunday there was almost $20,000 given for missions! As you recall, we had all agreed earlier this month to increase our giving to missions by another $100.00 per month, however, with this new surplus, we are able to double each missions giving from what we originally started with in December as we stepped out in faith to support each of the 7 organizations

Pacific Youth Ministries!!!
Hey Everybody,

Below is an encouraging video just over 3 minutes long, with some exciting stories of the girls who got saved this month. We have seen 14 girls get saved at two facilities in March. Six of those were saved at our two-day Encounter outreach. We just got approved to do movie outreaches again so long as we can space out the seating in the gym.
Central Asia Missions update. !!
We are looking for a young man who might want to join us over the 2021-2022 school year. Anyone know of a young man who might be interested? We would love to expose a mature-in-the-Lord young man who wants to experience the adventure of living in another culture. Who wants to be a part of God's working in T. Who is eager to try different things. Who might have skills or strengths in Social Media or Film. Or if there is a young man who has considered doing business cross-culturally, we can give him PLENTY of experience here:) This is a situation where we have an open room, a social teen with language who loves to film and do almost anything for a laugh. We hope it would be the chance for a young man to grow in the Lord and in his vision for his life alongside God and others. And that it will be a mutual benefit to our 17 year old son who will be in his senior year. If any of you know of someone who might be a good fit for this assignment, please contact us!

As you remember and rejoice, we wanted to update you and give you more to be praying for in this next month. Thank you again for always standing with us in prayer for this adopted land, for Singers, and for our team and the various projects we are connected to.

Praise and Prayers:

Teammate and I (Coby) met with Garden: She will be getting baptized in April (WOOHOO!). She is still on a journey, though, and struggles with trusting J in difficult times--which she has had a lot of lately. Pray for her growth in faith, and her growth in reaching out to those she works with. Also rejoice with us in this step of obedience!
Another teammate and I continue to interact with S: We will go Wednesday to read together with her and her teen son. She has trust issues with her community so she doesn't seem a person who will share with others. But we walk forward with reading with her until the Lord or she says otherwise. Pray for us as you begin your Wednesday: that our meeting and studying with her today continues to open her heart to healing with Jesus.
Lockdowns for us and our country are back in place: even though we imagined this would happen again, I felt my anxiety go up when they reinstated weekends being house bound. Pray for us and our team in these restrictions. They will continue to the end of Ramadan which is the middle of May. Pray for our teens and kids, too. Our kids did get to make 2 trips up on the bus to be with friends in the last few free weekends--so grateful the Lord and the other parents helped make that happen!
Business efforts and working the Lord's Kingdom Yeast through the dough: First, our new accountant (a believer) has had some convos about faith with our office manager (not a believer)--pray their relationship grows and that opportunity to study with our Office Manager comes about. Also the Electroplating part of our business will be moving into a new building soon. Pray for all the details to come together smoothly for that. The point in all of this is that the new plating work will be in a building full of Singer jewelers, giving our believing worker teammates opportunity to share while working. Pray for these things.
Stonecreek Kids' share love on Easter!!
Easter baskets made by Stonecreek Kids' Club and delivered to The Sheep Fold
About the Sheepfold
We first opened our doors to homeless, abused and forsaken women with children in October 1979. Since that time thousands of women and their children have found shelter, safe refuge and a new beginning in life as a result of the Sheepfold ministry. Recognizing that only God can heal a wounded soul, change pain and suffering into strength, and provide determination to overcome, a desire to know God through His Word is the only requisite to come into our shelters
Charity on Wheels' mission is simple. Rescue people struggling with poverty and homelessness. Our goal is to see people restored, thriving, and back on the road to self-reliance. Each week we visit neighborhoods, parks, alleys, riverbeds, and shelters to invite people to our gathering(s). We serve food but we are not just a "feed" or soup kitchen. Our volunteers sit down with guests to enjoy a meal together in order to establish relationships; this helps us to better assess needs. We often have music, a testimony or teaching, and dessert. Our guests are showered with love. No one leaves without an encouraging word and many are changed (both visitor and volunteer) after attending. We also give out toiletry items, shower passes and clothing.
"The SPIN (Serving People in Need) ministry is a local mission that Stonecreek Christian Church operates, administers, and supports. SPIN serves both those in our Stonecreek family and in the RSM area and surrounding communities. Examples of serve opportunities include: providing meals to those recovering from illnesses or hospitalizations, delivering groceries to struggling families, yard cleanup/home repairs for our elderly or disabled neighbors, visiting home-bound residents with communion, friendship and fellowship, plus many other opportunities as the needs arise and are brought to the church's attention. SPIN is a way for us to connect with the people in our community so they may develop a relationship with a family of believers at Stonecreek, and more importantly, so they may develop a relationship with our Lord and Savior Jesus Christ. We are never exactly sure what SPIN opportunity awaits, but we know it will lead to an encounter with Jesus, both for us and for those we serve!"

Support this ministry reaching people in Nepal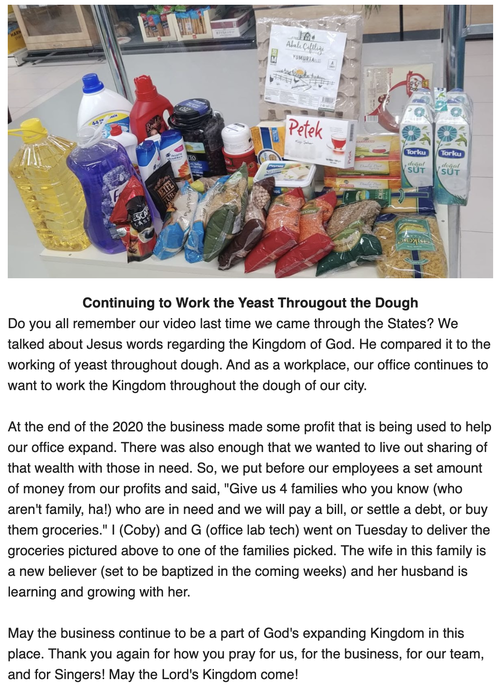 A 21 , founded by Christine Caine in 2008, is one of the largest organizations in the world that is solely fighting human trafficking.
At a local, domestic, and international level. All over the world, we are not just responding to trafficking that is already taking place, but we are actively working on the frontlines to prevent it from happening to begin with

Pacific Youth Corrections will glorify God by serving to fulfil the great commission. We will create or facilitate model chaplaincy ministries with incarcerated and at-risk youth through intervention, prevention and continuity of care